It happened on
Quantas flight 72
:
Circling Learmonth, the pilots run through a checklist. The plane's two engines are functioning. But they do not know if the landing gear can be lowered or wing flaps extended for landing. And if they can extend the flaps, they have no idea how the plane will react. As much as they can, the pilots try to assert control over the A330 while the computer system operates. It cannot be fully disengaged. Turning off the three flight control computers could trigger unintended consequences. They may fail or fault.

Pulling paper charts out for Learmonth, the pilots make more inputs into the system, to no avail. It means they will have to conduct a visual approach. The precariousness of their situation is laid bare in a lengthy summary of faults on their screens. They include the loss of automatic braking and spoilers to prevent lift once the plane is on the runway. The pilots do not know whether they can use the nose-wheel to steer the plane until it is on the ground.
Over 100 people were injured, a dozen seriously when the plane pitched down and the cabin experienced negative 0.8g.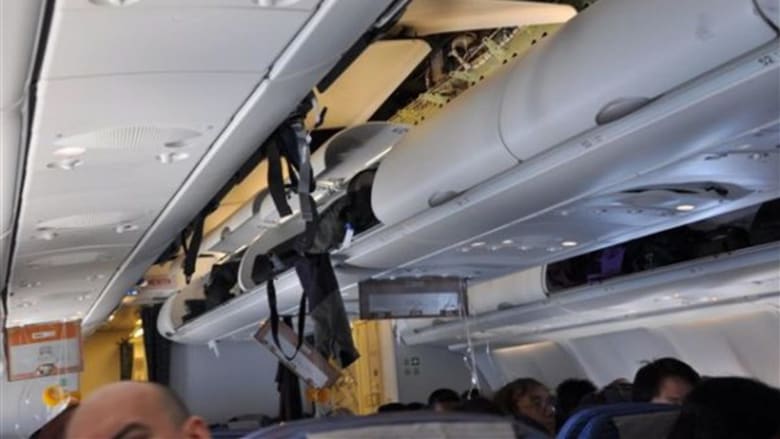 This is what the nose dives did to the cabin
Airbus has a long history of "issues" with the computerized control in their aircraft. Post incident investigations typically blame the pilots (usually unconvincingly, at least for me) but this incident from 2008 shows that when everything is controlled by (or through) a computer, the computer can kill you. The report said that one of the flight computers corrupted the avionics data, and the computer wasn't smart enough to realize that the data were whacky.
The way that I would rephrase that is that the software designers don't really understand how the software works, at least not all the time. They can't say for certain whether the software will kill everyone onboard.
And this is the most sophisticated autopilot software ever built. What's gone into self-driving cars is primitive by comparison. There are millions of man-hours of development in the Airbus software, and what it is trying to do is arguably easier than what cars have to deal with - for example, there is no need for the sort of obstacle detection and avoidance that a self-driving car experiences.
RTWT. I'm nowhere near comfortable entrusting my life to one of these experimental cars.