We're seeing this graph in the media: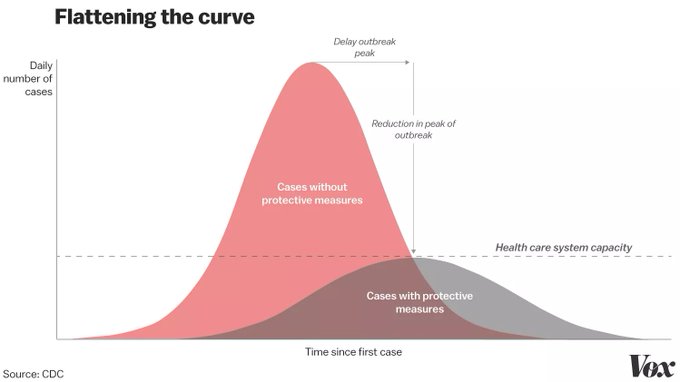 Vox is a journalist "explainer" site, and this is a great example of journalists explaining things to the general public. The overall idea is sound, that prohibiting large public gatherings will slow the spread of the virus; a slower spread will lower the peak number of cases; a lower peak will (hopefully) preclude a situation where the medical system gets overloaded.
So far, so good.
But look at that horizontal dashed line. It sure looks all numerical and accurate and sciency, right? And the heights of the two curves are all numerical and accurate and sciency, too.
Slow down, cowpoke
:
The snake oil salesmen spreading the meme (and it has appeared in NPR, Wired, and tons of other far left outlets) make several statements such as
A) we will run out of hospital beds if we don't cancel NHL+NBA
B) we will not run out of hospital beds if we do cancel NHL+NBA
Now, there is no evidence supporting A and there is no evidence supporting B.
Maybe it's correct, but maybe it isn't. We don't know a lot, and in fact don't know almost
anything
important about these curves. How fast was the virus spreading before large gatherings were banned? We don't really know because testing hasn't been available except in very limited capacity. How fast is the virus spreading after large gatherings were banned? Same answer. What's the capacity of ER rooms? We don't know what this will be once the virus is circulating - medical personnel very well may become infected, and it's not the number of ER
beds
that's key, it's the number of ER beds
that medical personnel can provide care for
. What's that number? Well, it depends on how many ER staff get infected. How many is that? We don't - and can't - know until it happens.
The situation in which the NBA+NHL really changes the qualitative behavior is equivalent to a fine-tuning in the sense of particle physics, and is therefore "unnatural" and unlikely. A small effect is very unlikely to change the answer to a big qualitative question from Yes to No or vice versa.
The same implausible demagogic claims have been made in the case of the climate hysteria, of course. That hoax was a rehearsal for this more heated hysteria that people are undergoing today. In the climate case, you were told something like
A: all polar bears will go extinct if you drive your SUV
B: polar bears will be saved if you stop using your SUV
...

The correlation between "using your SUV" and "seeing polar bears extinct by 2100" is of course basically zero for absolutely all practical purposes and most of the impractical purposes, too.
But here we go again. Some demagogues are just inventing pure šit and millions of people are so stupid that they are consuming this šit while smacking their lips. In fact, these millions of incredibly gullible and stupid people seem to be vigorously helping the demagogues to shove the šit down their own throats!
So the NBA+NHL almost certainly won't impact qualitative questions such as "whether the U.S. will run out of the some quality hospital beds". The total number of cases at one moment may peak at hundreds of millions in the truly worst-case scenario but it may also peak at a number comparable to a few thousand. There is some five orders of magnitude in between. For someone to claim that he "knows" that it must be some number that is much higher than the current one means for him to become a 100% dishonest seller of the totally irrational hysteria.
FYI, the linked post is from an actual scientist, who knows math and statistics and stuff. He warns to take what politicians and talking heads say with a big grain of salt:
For example, some complete aßhole in Ohio, a governor or similar crap, has asserted that there are about 100,000 Covid-19 positive in Ohio. It's ludicrous nonsense, of course. The fatality rate isn't much below 0.1% (look at the cruise ship, for example) so there would already be at least hundreds of deaths in Ohio if the claim about 100,000 were right (there are none or almost none). It's implausible that 100,000 people were infected at almost the same moment so many people would already be in big trouble by now. How stupid do you have to be not to figure out that this is just pure fake news by a complete moron who should be arrested for many more years than the people who scream "fire" in a full movie theater?
I strongly encourage everyone to click through and read his post which, while acerbic, is full of sensible analysis about what public policies plausibly make sense.
Vox's graph is the kind that the post World War II managerial elite loves. It's a plausible idea with no real data backing it up, but is all dressed up in its scientific-go-to-meeting-suit. It's like the
Drake Equation
:
The Drake Equation is designed to estimate the number (N) of planets in the galaxy that have intelligence life.




...
Looks like math, right? Science!





Um, not so much. You see, we have quite poor information about what the value should be for most of these variables. The Wikipedia article covers this in some depth, but it's summed up with, well, what I said:




Criticism of the Drake equation follows mostly from the observation that several terms in the equation are largely or entirely based on conjecture.
So the graph is really nothing more than people saying "
Stay home, wash your hands, and
stop touching your face,
" only trying to sounds smarter than they really are.