This is interesting, both as a potentially useful privacy device but also as a reflection that
the market wants a privacy device in the age of Alexa
:
As the popularity of Amazon Alexa and other voice assistants grows, so too does the number of ways those assistants both do and can intrude on users' privacy. Examples include hacks that use lasers to surreptitiously unlock connected-doors and start cars, malicious assistant apps that eavesdrop and phish passwords, and discussions that are surreptitiously and routinely monitored by provider employees or are subpoenaed for use in criminal trials. Now, researchers have developed a device that may one day allow users to take back their privacy by warning when these devices are mistakenly or intentionally snooping on nearby people.

LeakyPick is placed in various rooms of a home or office to detect the presence of devices that stream nearby audio to the Internet. By periodically emitting sounds and monitoring subsequent network traffic (it can be configured to send the sounds when users are away), the ~$40 prototype detects the transmission of audio with 94-percent accuracy. The device monitors network traffic and provides an alert whenever the identified devices are streaming ambient sounds.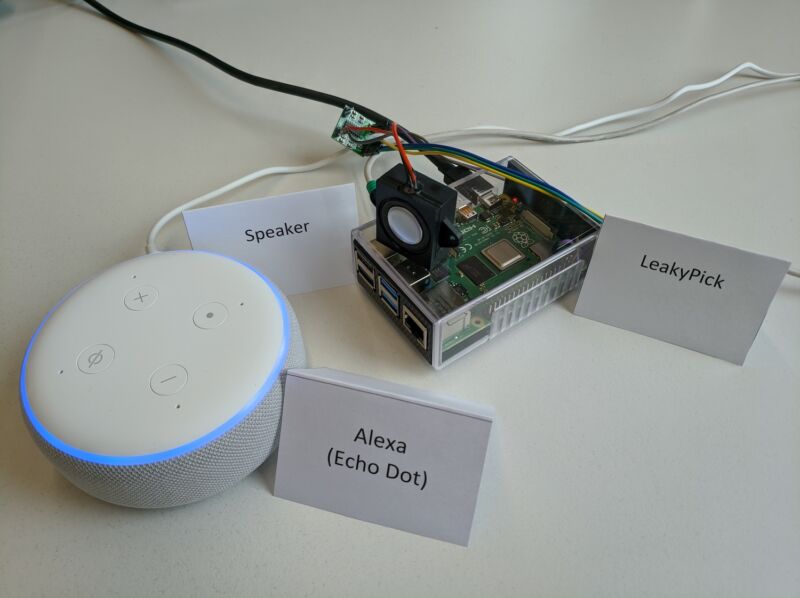 A few thoughts:
This is a prototype, not a product. You can't buy it yet.
This is a pretty neat approach. I posted years back about just how powerful Traffic Analysis is, and how we used it in World War II.
If you want privacy you really shouldn't have one of the Alexa devices listening to you all the time.
But it's kind of cool.