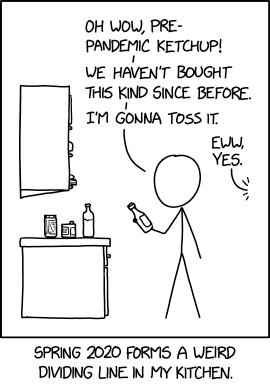 There's the food of all sorts that we had before. There's also the food I started stockpiling in January and February of 2020 when I thought this was going to break out and it was hardly being reported. Every time I went to the dojo I would stop in the grocery and bring home a couple of bags of assorted things. I ended up with plastic tubs full of enough food to last us for maybe 3 months.
As the real effects of the virus became more clear and the supply system, while stressed, did not collapse, I started a sort of first in/first out routine and let the pantry dwindle back toward the one month hurricane storage. Not everything got used and a few things had to be discarded. The dry goods like rice and pasta don't last unless they are purchased sealed in nitrogen. Cooking oil has a life span of a few months. Canned goods, for the most part, will go for a year.

The medicine cabinet is worse. Somehow years disappear. I looked at a blister pack of Benadryl recently that had use by date in the fall of 2014. It is not the oldest thing in there.
I need to check the first aid kit in my pack.

Hat tip to XKCD